Happy Holidays from the DISL Foundation
Season's greetings from the Dauphin Island Sea Lab Foundation! The D.I. Sea Lab Foundation promotes and supports the Dauphin Island Sea Lab in its vision to serve as one of the nation's premier marine environmental science labs and educational institutions. The Sea Lab also strives to bring awareness concerning protecting our coast and sea life and through better marine resource management.
Please join us in sharing the gift of environmental stewardship this season and consider a donation in honor or memory of those on your holiday list. With your tax-deductible donation of $25 or more, the recipient of your choice will receive a holiday card notifying them of your gift on their behalf. To make a donation click here Holiday Donations.
We appreciate your support and look forward to helping you with your Holiday List this year!
With Warm Best Wishes this Holiday Season,
The Board of Trustees of the Dauphin Island Sea Lab Foundation
---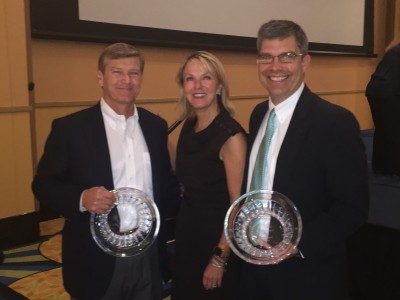 Sam St John and Mark Berte with Helene Hassell
DISLF Announces Marine Environmental Award Winners
The Dauphin Island Sea Lab Foundation is proud to announce the Awardees for the 2016 Marine Environmental Awards:
Gulf Coast Marine Environmental Excellence Award-Recognizes an individual who has made outstanding contributions to marine environmental sustainability in the Alabama Gulf Coast Region.
Sam St John
Gulf Coast Marine Environmental Leadership Award-Recognizes a business or organization whose efforts have resulted in the improvement of marine environmental sustainability in the Alabama Gulf Coast Region.
Alabama Coastal Foundation
Sam St. John
Sam St. John serves as President and CEO of Logical Computer Solutions in Mobile and is a lifelong resident of this area. Sam has displayed his true passion for our environment through his active involvement in organizations such as the Fowl River Area Civic Association, Muddy Water Watch, Coastal Conservation Association, and by serving on both the Alabama Coastal Foundation and Mobile Baykeeper Boards. In addition to his civic commitments, Sam has bought and placed osprey platforms along Fowl River, built and distributed wood duck boxes to all his neighbors up and down the river, and helped plant cypress trees throughout the Fowl River watershed.
In his free time, Sam enjoys flying, and we are fortunate he shares his enthusiasm of the environment with us through his photography. With his own airplane and photographic equipment, he provides aerial photos of coastal Alabama to a number of governmental, as well as nongovernmental organizations. These photographs are very helpful in following the progress of ongoing restoration projects as well as monitoring the long-term condition of completed ones. These routine overflights have also helped with watershed planning and are used by scientists to spot specific schools of fish and mammals. It is important to note Sam makes these photographs available to the public on his website, www.flythecoast.com, and he refuses to accept any compensation for these services.
Alabama Coastal Foundation
Founded in 1993, the Alabama Coastal Foundation (ACF) is a non-partisan, non-profit organization with the mission to improve and protect Alabama's coastal environment through cooperation, education, and participation. Using the philosophy of inclusive environmental stewardship, ACF seeks common ground among citizens, businesses, governmental entities, and non-profit groups to facilitate mutually beneficial solutions.
ACF offers important K-12 and adult education programs including the Mobile Bay Middle School Estuary Corps which they conduct in partnership with the Dauphin Island Sea Lab and the Mobile Bay National Estuary Program. ACF's education and volunteer engagement activities inspire and empower current and future leaders to address Alabama's environmental challenges. For more information about ACF's programs and how to volunteer, please visit www.joinACF.org
Regions Bank Sponsors Awards Luncheon
Thank you Regions Bank for sponsoring for the fifth annual Marine Environmental Awards Luncheon held November 1, 2016.
Cocktails with the Critters 2017
Cocktails with the Critters 2017.....Thursday, May 4, 2017 at the Bluegill on the Causeway! Don't miss it. It will be a blast!